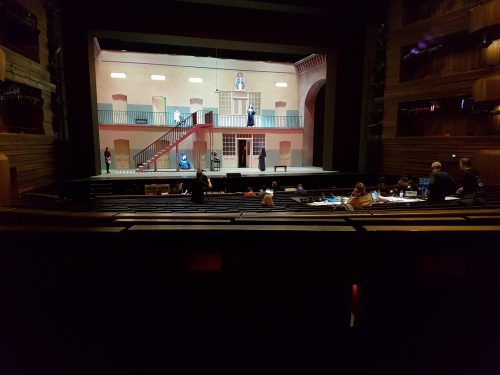 11 Feb

SDUK BLOG – Kate Guelke on Mentoring

Kate Guelke was recipient of an SDUK Mentoring Bursary in 2019:
---
I'm going to be honest.  I can count on my hand how many times – as a director – I have actually spoken to a designer.  The scale of the productions I do mean that that role is rarely if ever fulfilled, and it's less a question of 'what's the aesthetic of the piece' so much as 'who will lend us that?'
In Northern Ireland, arts subsidy being what it is (dire), the designer is a bit of a luxury for most start ups like mine.  Community opera company Spark Opera has had a designer once in its ten year history.
So when NI Opera invited me to direct Studio productions, young artist showcases with a design budget, I was placed in something of a quandary.  How do I talk to designers? At what point does my role end and theirs begin?
Funding is still very much a consideration for these short works – the Studio doesn't have access to a designer for the entire process, which means 'bang for buck' is important.
I knew when the Studio gave me 'La Dirindina' – a Scarlatti/Martini mash up about an aspiring diva – I would have to work cleverly and quickly with a designer to get the best use of their time, effectively creating the world of the show with them in maybe 2 or 3 conversations.
With very limited experience of seriously collaborating with a designer, I was intimidated.  I needed them to solve problems for me, but also feel creatively invested in the end product.
Enter SDUK, and an opera bursary offering an opportunity to travel and receive mentoring.  On a punt, I contact director designer Isabella Bywater – could she possibly see me for some 1 to 1 sessions?  The last time I saw her I was an intern at Den Jyske Opera – ie the ginger who made coffee. She responds, "Yes! Of course! Lovely… but you'll have to come to Oslo…"  I receive the bursary (I am ecstatic) and plan my trip; I book the cheapest flights and bedsit I can find and proceed to stuff my hand luggage with crackers and cup-a-soups.  With that, a £1 woolly hat and my platform docs, I'm off!
Oslo Opera is beautiful. Shining and encased with snow, it looks to me like a cross between an ice berg and a space ship – a long cry from the Frank Matcham jewellery box opera house I've been used to in Belfast.  The facilities are outstanding, but with £6 lattes from the café I stick to my flask and enter the auditorium.
The set for Bywater's Suor Angelica is, for me, a shock.  I realise instantly it is a Mother and Baby Home – with all the markers of Irish catholic institutions and an atmosphere of bleach and repression.  I am certain with Annilese Miskimmon as Artistic Director that the scandals of clerical abuse in Ireland, the Magdalene Laundries and more recently the Tuam babies mass grave, have strongly influenced the design here.
I meet Bywater – who is delighted by my instant and uneasy familiarity of the staging – and we proceed to discuss how often direction can turn on the axel of design.
I spend a lot of time with Bywater in the following couple of days – shadowing her as she gives notes, develops lighting cues and corrects the show. We nab mentoring sessions between Stage and Piano rehearsals and sandwiches.
I learn quickly that design must serve concept.  Isabella asks me what I want from a designer – I answer 'to solve issues I can't solve in the staging alone'. She asks me again what those issues are, and I respond that our staging is in Italian, unfamiliar and tricky to follow without surtitles. "So insert surtitles. Get a video director. I'm sure you'll get use out of one of them. This is your show. Do what's best for you and the audience."
This is so refreshingly utilitarian and helpful that I entirely rethink the show along these lines. With a video director, I see the possibility of shooting a parody music video and making "La Dirindina" a reflection of the music industry now – an industry as corrupt and cynical as when the diva Diri showed audience VIPs her underwear to get attention.
I leave Oslo with a clear head, and arrange a little visit to Stormont for a very special version of 'Ombra mai fu'…